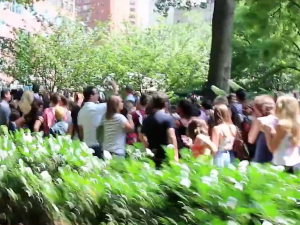 Snapchat's success lies in its ephemeral nature. This was exactly the original idea of Snapchat – to leave no trace behind. It's a promise of real time stories, instantaneousness, snap, snap, done, move on.
Questions for communicators: why is it so appealing, what does it suggest, what are the learnings, and how to use it?
Why is it so appealing? Firstly, as said, it is snapshots and videos nobody will have to regret having posted; but also it is the modern version of living in the now, ephemeral events, memories or actions that youth loves, and has always loved. It is the same concept as in the 60's and 70's hippie Happenings. Allan Karpow, who used the word "Happenings" for the first time in 1958, described these precursors to the flash mob as "events that, put simply, happen". Here is the pitch of his Pose:  "Carrying chairs through the city. Sitting down here and there. Photographed. Pix left on the spot. Going on".
Snapchat is a digital version of Karpow's Happenings. Youth today, as in the 60s, juxtaposes the ephemeral with the timeless. Present, hyper-present even, with the past. Transient cultural forms with enduring artistic works. Passing trends with eternal truths. Youth needs a world that forms itself and vanishes which is the opposite of the real world they haven't chosen. Evanescence is a promise of freedom and renewal. The response to the question: "how to be young in an old world" is to allow nothing last. Novelty is vital to youth. The fact that it doesn't continue is pivotal. It's how they feel new. In an old world.
Also, Happenings and Snapchat create a "distinction". By disappearing, the contents of Snapchat are only available to those in the know, those who are plugged in, those who live the Now to the fullest, "their generation", as they call it themselves. In the Know and in the Now…
Brands and communicators can learn an awful lot from Snapchat's success. Messaging is most efficient when it is powerful yet instant and ephemeral. Messages can be an object of desire, and the shortness of their availability can trigger attractive-ness. Exclusive, for this generation, is redefined: it's not about being accessible only to a few. It is about being accessible to all, but for a short time.
Products that encompass an element of the ephemeral do work extremely well (e.g. Coke cans). It's a challenge for brands, and for production:  how to build into production systems the need to evolve key elements of the product and packaging at a faster and faster pace? How to create this sense of "for youth in the Know that want it Now?"
The other keyword about snapchat is: "story". Messages that tell a life story. A protagonist. Struggles, barriers to surmount, tools and protectors to reach a goal. And a moral to pursue. Life stories. Stories that happen in people's lives. Life challenges. It can be noble. It can be mundane. It can be grand. It can be goofy. But it's got to be a story.
So! How to use Snapchat? Easy! Create ephemeral life stories. Easier said than done? Well, as we say, let your hair down, and get to work!
Now comes the fundamental question: how do you maintain the cohesion of your brand if your communications are a succession of ephemeral stories? That's where you really need a foundational narrative, an overall story framework that holds these snapshots together. Take the Odyssey. The foundational narrative is the story of a King that discovers the world on his journey back to his Kingdom, and the tensions he experiences between the temptations of the world and his attachment to the place he calls home.
The poem is a long succession of episodes in which he makes a series of ephemeral encounters with wise men, dangerous ones, fools, the seductive sirens, enemies, allies, and more. Each episode is a snap story of the encounter, and its characters vanish on the way to the next adventure.
The exciting challenge with the age of snapchat is that it forces brands and communicators to move from the age of tale to the age of epopee.
Snapchat is a unique opportunity for brands to become epic.
A&P.